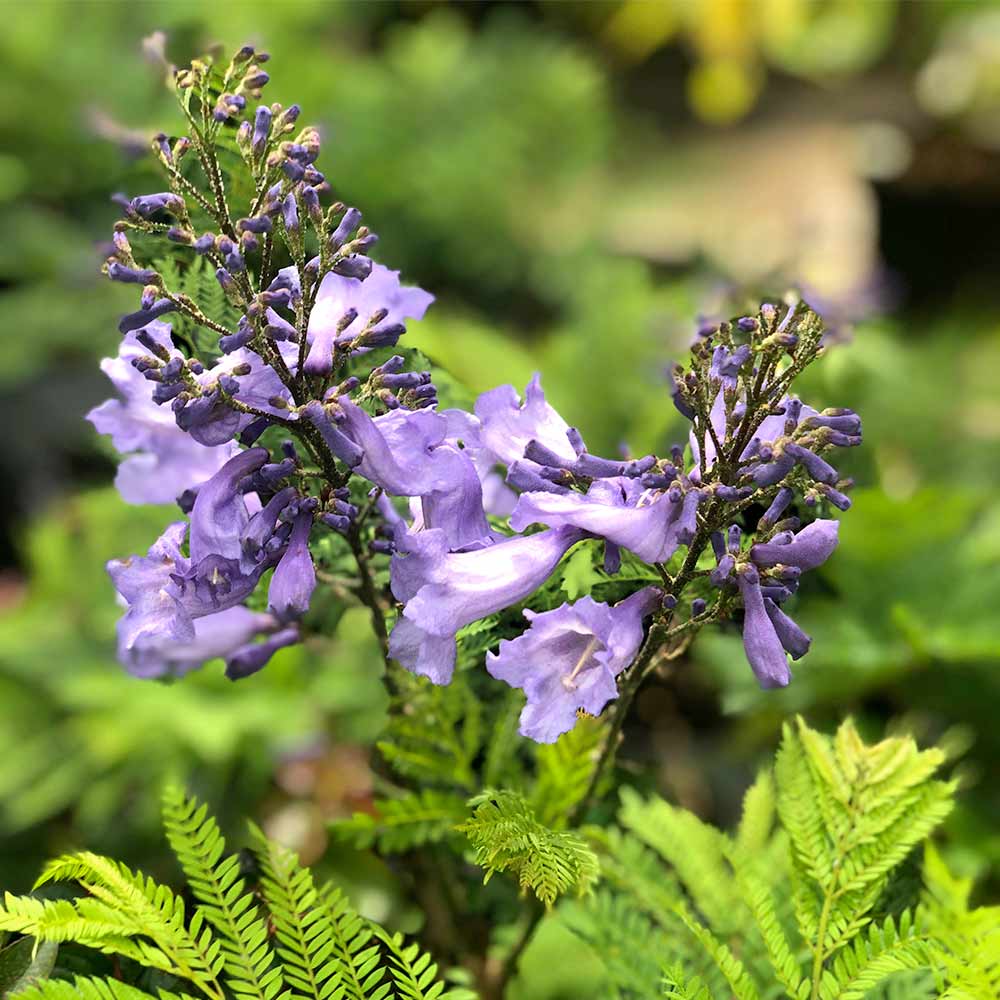 Jacaranda - Bonsai Blue
£29.99
Available to order from
Dobies
Send Jacaranda - Bonsai Blue
Jacaranda Plant - Bonsai blue At last, the world?s first compact Jacaranda! The Jacaranda - Bonsai Blue is truly a beautiful plant. We are fortunate enough to have complete exclusivity in the whole of Europe! You could be one of the first people in Europe to grow this fantastic plant.  If you have travelled to some far-flung places you may have seen the streets lined with huge Jacaranda trees growing to 20 metres high! Arching overhead, enclosing you in a giant rip curl wave effect of the brightest blue flowers both above your head and below your feet. Around 15 years ago, Mr Sakai in Japan made a chance discovery of a single flowering branch on a young Jacaranda tree (they normally take 15 years to flower).  After more than 10 years of careful selective breeding, Mr Sakai has finally perfected the early years flowering dwarf Jacaranda that you see here. So thanks to his efforts, we can all enjoy this wonderful plant in our own gardens or patios. The Jacaranda - Bonsai Blue?s name comes from the locals use in Brazil. This dwarf plant originally comes from Japan where it was cultivated to produce flowers much faster! Now native to the American Tropics, the Jacaranda will surely make for an amazing patio plant and bring an exotic flair to any garden display. Now at last UK gardeners can also grow and appreciate the soft, fern like foliage of this world's first compact Jacaranda but also be astonished by its breath-taking purple blooms. Preferring well-draining soil, Bonsai Blue is heat and drought tolerant. You won?t be the only one that loves these Jacaranda plants, they also attract butterflies, bees and other pollinating wildlife. Its rounded habit and 1.25-1.5m height enable it to be readily protected from frosts below -2 degrees. Previously grown in the UK for their fern like foliage, Bonsai Blue will also provide stunning blue flowers in late May-June. Despatching June Onwards. To find out more about the Jacaranda Bonsai Blue's amazing story read more here!Looking after your Jacaranda Plant - Bonsai blue Jacaranda Plant - Bonsai blue prefers well-draining, enriched soil and will require regular watering, especially during its first growing season and when grown in a container. Once established, your plant will look after itself a bit better and you can reduce the frequency of watering. As a dwarf variety, this Jacaranda ?Bonsai Blue? can be grown in a container about 45 cm or 18 inches in diameter. Plants will tolerate a brief drop in temperature to -2°C, it is best to keep them frost free and protected during the winter month. Keep watering to a minimum as the plants do not like wet and cold roots. In the past, Jacaranda would?ve been too large for gardens, and would have been grown for their beautiful fern-like foliage, however ?Bonsai Blue? will give that foliage plus the stunning blue flowers from late May to June.
There are 2 voucher codes for Dobies
Reviews for Jacaranda - Bonsai Blue
We don't have any customer reviews as of yet. Why not be the first to write one?
Popular Flowers to Send Today