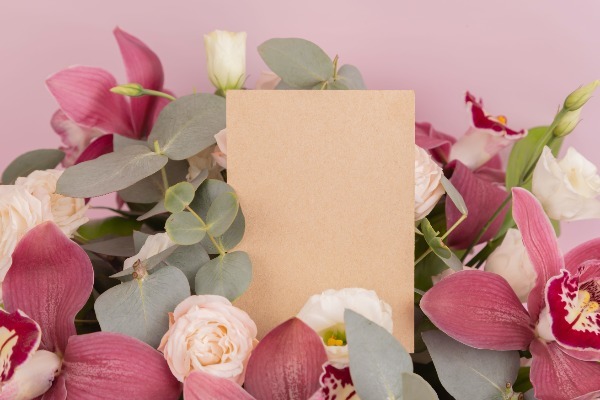 Writing a winning Valentine's flowers card
It is customary to send your beloved flowers on Valentine's Day and online florist's sites make this easy enough. So easy, in fact, that there is a danger of it appearing merely a robotic gesture stripped of the meaning we want it to convey. Fortunately, with so many web sites offering personalisation of gifts, card and flowers it is now possible to include a specially composed message to go with your chosen gift to express your heartfelt feelings to the one you love. The flowers themselves convey a message, of course, but a few well chosen words will show your beloved that there is some sincere feeling behind the gift. All too often though, we end up with a "love from guess who" (it's traditional to be anonymous) or not quite hitting the right note with "wurve woo piglet fwom your porky pooh" (ugh). It might sound cute spoken fervently in person but it really doesn't translate well to the written word.
Firstly, do you have an "our song", something that used to be on the radio all the time when you first met and seemed to say it all? Quoting a few lines from that should successfully strike a romantic chord. Or perhaps she has a favourite poet whose work you could trawl through for suitable quotes. One of Shakespeare's best loved sonnets is eminently suitable:
Shall I compare thee to a summer's day?
Thou art more lovely and more temperate;
If your relationship is a mature one how about:
....Love is not love
Which alters when it alteration finds
Or bends with the remover to remove:
O, no it is an ever-fixed mark,
Just the mention of Lord Byron conjures up romantic notions. He wrote:
She walks in beauty, like the night
Of cloudless Climes and starry skies;
And all that's best of dark and bright
Meet in her aspect and her eyes:
Another favourite this, from "The Sun Rising" by John Donne:
Love, all alike, no season knows, nor clime,
Nor hours, days, months, which are the rags of time.
Elizabeth Barrett Browning wrote:
How do I love thee? Let me count the ways.
I love thee to the depth and breadth and height
My soul can reach, when feeling out of sight
For the ends of Being and ideal Grace.
Perhaps less well known is "Desire" by Samuel Taylor Coleridge:
Where true Love burns Desire is Love's pure flame;
It is the reflex of our earthly frame,
That takes its meaning from the nobler part,
And but translates the language of the heart.
Trawl the internet too for simple but effective love quotes:
Love is a decision not an emotion or feeling,
that if made from the heart will outlast anything... (Raul and Samantha Juarez)
Or how about:
My night has become a sunny dawn because of you. (Ibn Abbad)
Plato said, "at the touch of love everyone becomes a poet." You've seen how the greats have done it, could you be inspired to create your own? Remember no baby talk please!